Drawn by a common passion for the precision and innovation of craft distilling, a group of individuals came together to create artisan spirits in a historic location in the Surrey Hills.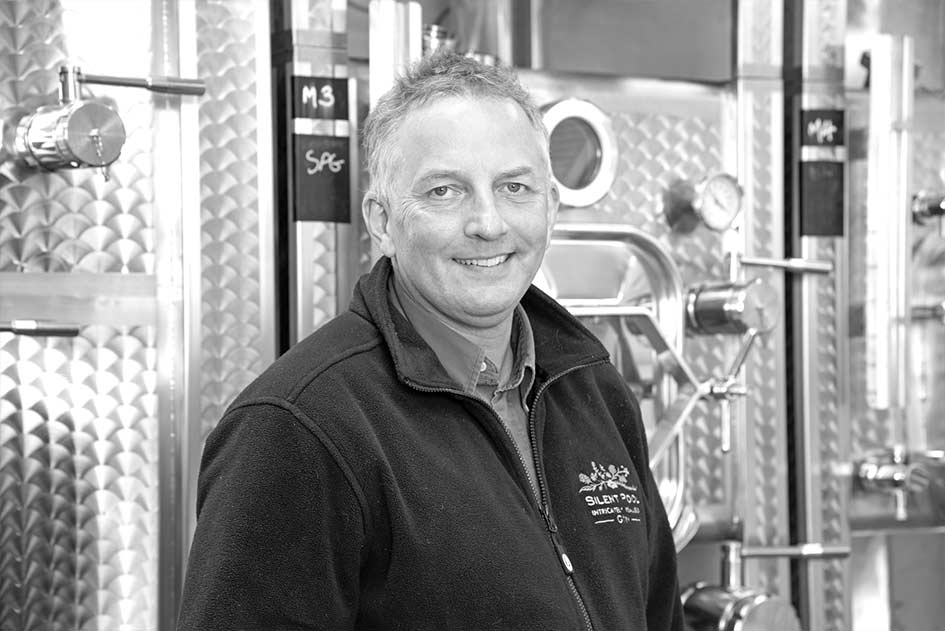 Ian McCulloch
Managing Director
Ian has tried to work silently and behind the scenes, but failed spectacularly. An ex-city dweller, he makes the most of his new countryside location by wearing shorts every single day to show off his never-ending supply of white socks. You can find him surrounded by paperwork, peering out of his window side desk facing the courtyard, micromanaging every part of the operation. Despite his tough manly exterior, deep (deep, deep) down, he is very soft and caring, just like a lobster.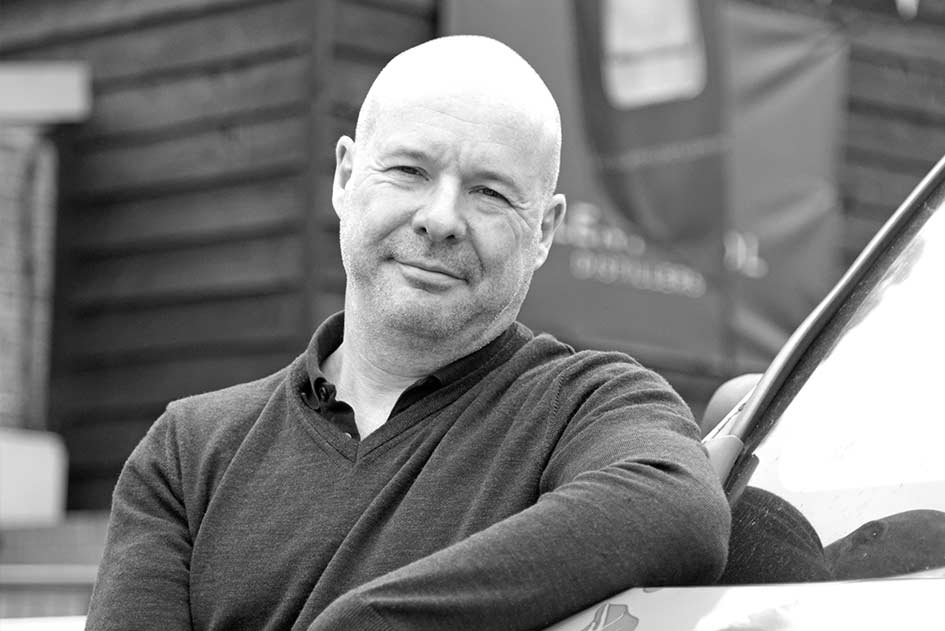 James Shelbourne
New Business Director
With oversight of International Sales, James is fluent in 4 languages: English, American, Canadian, and Australian. The harsh realities of James' responsibilities mean that he has to spend a lot of time away, drinking his way across Ibiza, St Tropez, New York… the list goes on. The invention of Skype has revolutionised James' life. In this golden age of computing, he can conduct business meetings wearing no underwear, which he thinks nobody else has figured out.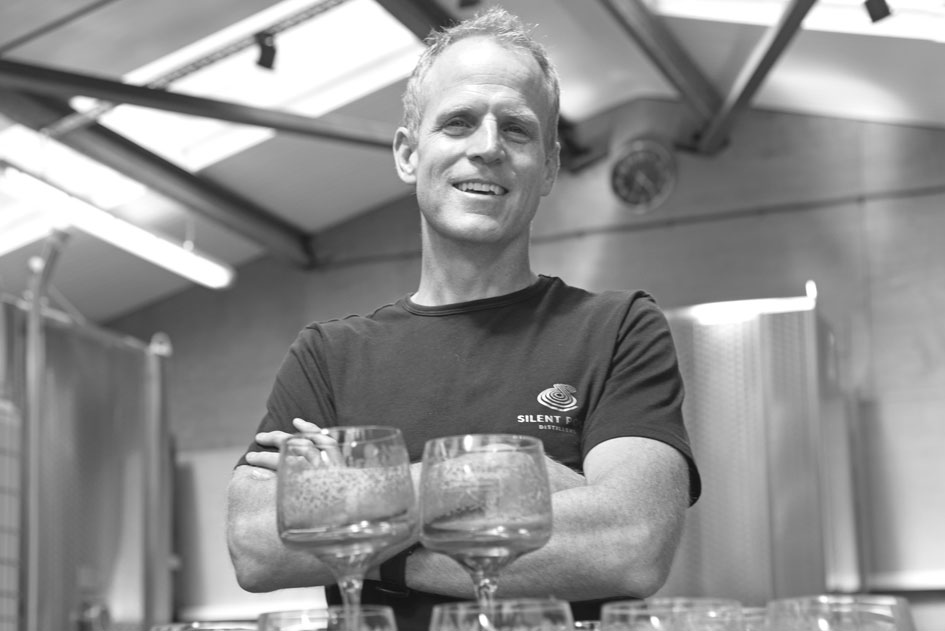 Steven Kavanagh
Company Secretary & Director
Aussie Steve is our favourite (and only) South African – or was it the other way round..? Intelligent, efficient and pragmatic, Steve is everything you'd hope for in an accountant. A leading expert on Health & Safety, if you ever spot Steve on a tour, be sure to ask him about barriers to entry – his second favourite topic (a close runner-up to talking about how our fabulous gin is made).
John Keeling
Chairman & Director
John is only involved in Silent Pool Distillers from afar, turning up every now and then to referee a Board Meeting and to load his car boot up with a variety of products. Like Ian McCulloch, who John ran into at Harvard Business School in 2004, John is an ex-city dweller. Unlike Ian McCulloch, John rarely wears shorts and has never knowingly been seen in white socks. John currently holds the record amongst the Directors for personal orders of Silent Pool Gin. He also executed a superb head-first dismount from a taxi in Barcelona during the first company offsite meeting in 2018.
Adam Dobson
Global Sales Director
Our new Global Sales Director Adam was brought up in a pub so the business has always been close to his heart. Having started his booze career in his early 20s, Adam brings a wealth of industry experience at a senior strategic level having helped put brands such as Johnnie Walker, Bathtub Gin and Ciroc firmly on the map. When not extolling the virtues of Silent Pool Gin to our rapidly growing legion of supporters, Adam can either be found in the kitchen conjuring up some culinary delights or down the pub enjoying the rugby and a pint of Guinness. Adam's great-grandfather provided hospitality at his home for King Edward VIII during the early days of his abdication. Seems hospitality has been in the Dobson blood for generations. Cheers!
Sophie Best
General Manager
The most dedicated member of the company personal training class and distillery prankster. Sophie, originally from t'north ('the north' in Northernish), is an award winning CIMA accountant, and is well equipped to look after all our money (clothed in a bazillion layers and drinking Yorkshire tea). Presumably this is related to her northern upbringing. Sophie recently relocated to the comparatively tropical Surrey hills where she can commute t'werk (to work) on a John Deere tractor. She is the Gromit to Ian McCulloch's Wallace i.e. the brains of the operation.
Tom Hutchings
Master Distiller and Head of Technical Operations
Tom slaves away at the hands of The Major (our traditional wood-powered boiler) at all hours of the day. He is responsible for the continued flow of delectable gin emanating from the still. As you'd expect, he is also a fantastic cook, which we take advantage of at every available opportunity. When on a rare day's holiday, you are most likely to find him stranded on a country road in Wales, trying to find motorcycle emergency replacement components using his edgy Android phone, on his last 4% of battery remaining.
Darren Macaskill
Marketing Director
Darren is our newly-minted Marketing Man. After reluctantly giving up a prolific music career (highlights of which include a support slot with Paulo Nutini and a single charting at 197), Darren extricated himself from his spray-on leather jacket and swapped the half-full hipster bars of East London for the leafy Surrey hills. Darren's had an interesting and varied career; one minute helping technology titans to flog flatscreen TVs and the next filming black horses on beaches. When not directing the marketing operations here at Silent Pool, Darren can either be found attending to his finely-coiffured barnet or planning his greatest hits album and 'Coming of Age' Tour.
India Blanch
Brand Ambassador
Chief Brand Ambassador India was thrust into the world of bartending as a baby; her parents were in the business of running bars. Having worked front of house and behind the bar for many years, she knows where all the best bars and clubs are, and has a charming knack for getting our gin into prime position on their busy shelves. When not planning awesome Silent Pool themed parties, India likes to live the high life and find fun places to eat and drink with her friends.
Jane Clement
Events Manager
One of the newest members of our team, Jane is our ex trolley dolly, on-the-spot deliverer of babies, dating advice guru and ringmaster of Markets and Events. As well as being a very welcome addition to the girls camp at Silent Pool Distillers, she makes running twenty-four events in a weekend look like a cake walk. Be sure to check out our Markets and Events Diary so you can see her team in action, and (most importantly) sample our products!
Melissa Thorn
Marketing Campaign Manager
Working alongside Darren, Melissa is relishing the world of gin having previously worked in the slightly less glamorous world of plumbing supplies. Having turned her back on ballcocks and cisterns, she describes life at the distillery as busy, exciting, varied and creative but still has enough time - just - to indulge her habit of buying too many handbags. She dreams of drinking G&Ts under a palm tree in the Caribbean, which is where she would like to live one day. Is she hinting about becoming an international brand ambassador? We suspect so. Nice try, Melissa.
Lian Stacey
Office Manager
Queen of lists and getting stuff done, loved and relied on by everyone who works here: Lian doesn't just manage the office but also looks after orders, customer services and tour bookings. Whilst not intentionally pursuing the title of 'office mum' she has become highly skilled at washing up other people's cups and lunch plates and remembering birthdays (there's always cake). But don't be fooled by her friendly demenaour: Lian doesn't suffer fools nor take prisoners - although she did in her previous job as a Police Force Detention Officer.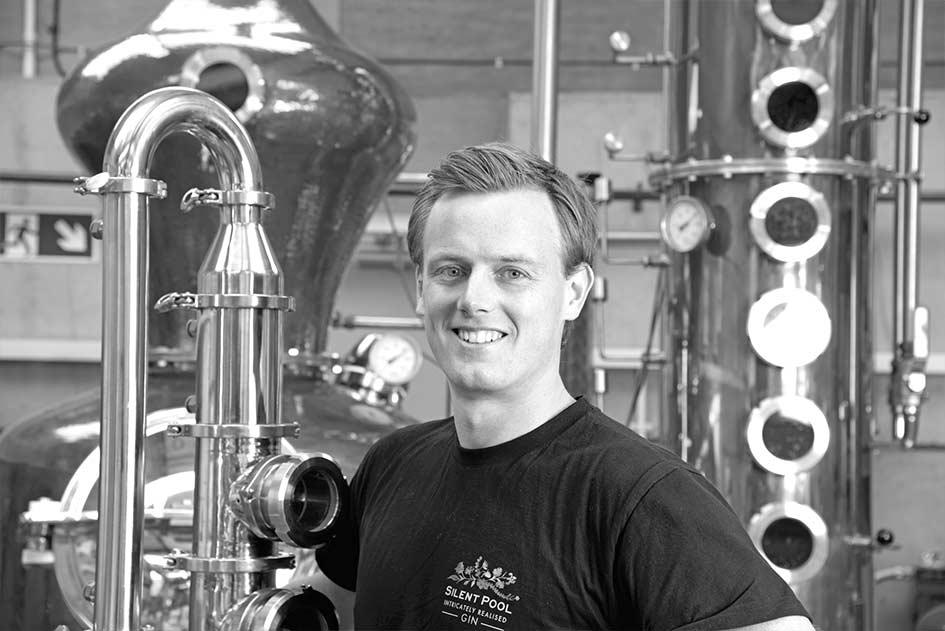 Todd Zillwood-Hunt
Distiller
In-house distillery DJ Todd is not only crucial for motivating our bottling team (his thesaurus- like musical knowledge is unparalleled) but he's also king of the 'on the spot' tour. With his flowing locks, easy smile and collection of beer-related t-shirts, you'd never believe our resident surfing enthusiast arrived with us somewhat preppy looking! We look forward to seeing the dreadlocks that we imagine will come with his full transformation into a Silent Pool distiller.
Chloe Sheppard
Packaging Supervisor
Chloe takes packaging very seriously: indeed before becoming our packaging supervisor she was, she tells us, number one wrapper at a burrito restaurant. Now she spends her days overseeing the bottling, labelling and packing of our gins whilst also winning at being the the most stylish woolly hat wearer in the distillery. Chloe has a strong interest in food, citing the arrival of The Sandwich Lady before 12.30 as the highlight of her day (she's not the only one, as anyone who has witnessed the lunchtime staff stampede will testify). Not one to be pigeon holed, outside work she likes collecting vintage fire fighting equipment.
Alex Hall
Distiller
Alex has a masters degree in Biochemistry and a MSc in Brewing and Distilling, but most importantly he is our go-to when we fancy a drink: for as well as being one of our super star distillers, Alex is also our resident cocktail aficionado. He's as happy to whip up a batch of Rose & Cardamom Sours for 45 customers as he is to perfectly position a garnish on the edge of a frosted coupette glass for a cocktail image on our Instagram page. Fascinating fact: Alex and fellow distiller Jason share a surname but are not related.
Torie Ross
Tour Guide
Originally from California, Torie now lives down the road from the distillery and thus has the honour of being 'member of staff with the shortest commute'. As a travel writer she has previously travelled solo in more than 15 countries but is now focussed on our tours, helping our guests to enjoy our distillery and gain an appreciation of the artistry behind our gin. She also leads our walking tours so its no surprise to learn that her favourite hobby is hiking, especially in the beautiful local countryside that she now calls home.
Christian Streatfield
Events Team Co-ordinator and Tour Guide
Christian works with Jane on our very busy schedule of off-site events including local markets and At Your Event private parties. He also runs distillery tours, charming everyone he meets with his dazzling knowledge of all things gin. Being something of a gin connoisseur, he's usually first in line when the distillers have a new spirit to taste. As a student Christian worked for the British Cycling Team, hanging out with world class riders at the velodrome. Now he gets to hang out with world class gin instead.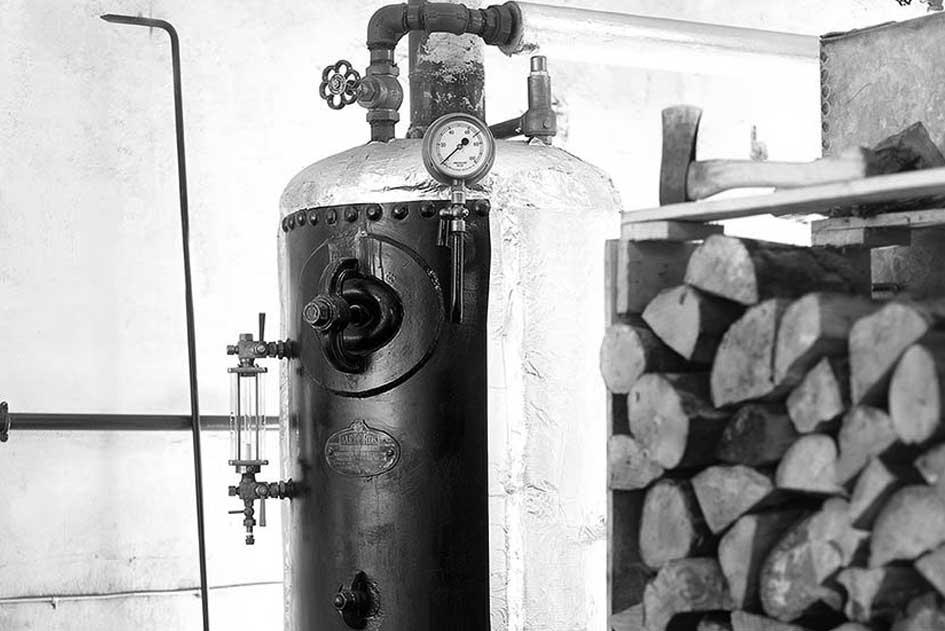 The Major
Wood Fired Boiler
We like to say that sunshine is one of the ingredients of our gin because the sunlight that falls on the Duke of Northumberland's estate, where we're based, grows the trees which we feed The Major. The Major powers the steam jacket of the still, which would make it possible for us to make gin in the event of a National Grid outage or apocalypse (ever the optimists here at SPD).