Drawn by a common passion for the precision and innovation of craft distilling, a group of individuals came together to create artisan spirits in a historic location in the Surrey Hills.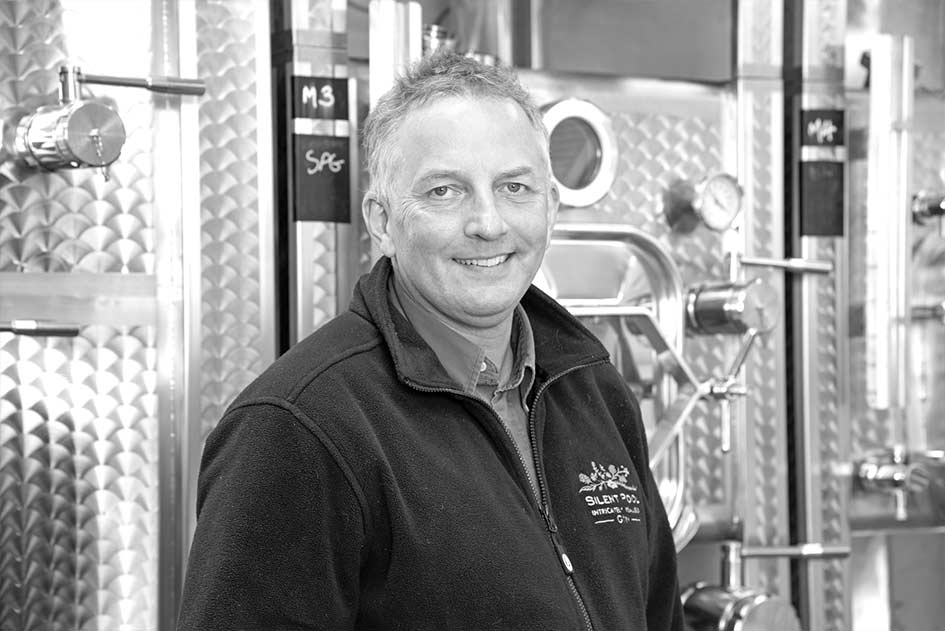 Ian McCulloch
Managing Director
Ian has tried to work silently and behind the scenes, but failed spectacularly. An ex-city dweller, he makes the most of his new countryside location by wearing shorts every single day to show off his never-ending supply of white socks. You can find him surrounded by paperwork, peering out of his window side desk facing the courtyard, micromanaging every part of the operation. Despite his tough manly exterior, deep (deep, deep) down, he is very soft and caring, just like a lobster.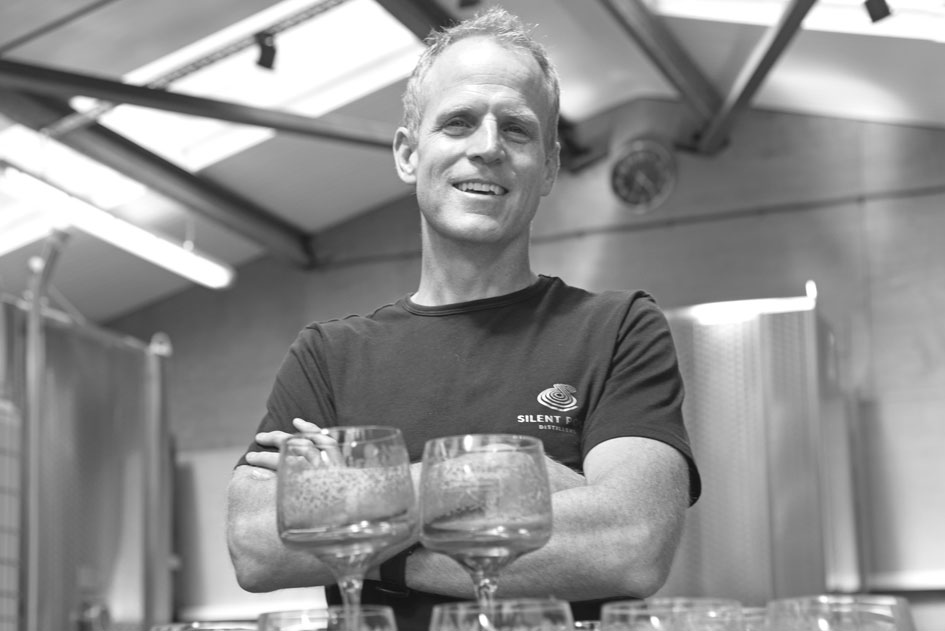 Steven Kavanagh
Company Secretary & Director
Aussie Steve is our favourite (and only) South African – or was it the other way round..? Intelligent, efficient and pragmatic, Steve is everything you'd hope for in an accountant. A leading expert on Health & Safety, if you ever spot Steve on a tour, be sure to ask him about barriers to entry – his second favourite topic (a close runner-up to talking about how our fabulous gin is made).
John Keeling
Chairman & Director
John is only involved in Silent Pool Distillers from afar, turning up every now and then to referee a Board Meeting and to load his car boot up with a variety of products. Like Ian McCulloch, who John ran into at Harvard Business School in 2004, John is an ex-city dweller. Unlike Ian McCulloch, John rarely wears shorts and has never knowingly been seen in white socks. John currently holds the record amongst the Directors for personal orders of Silent Pool Gin. He also executed a superb head-first dismount from a taxi in Barcelona during the first company offsite meeting in 2018.
Sophie Best
Operations Director
The most dedicated member of the company personal training class and distillery prankster. Sophie, originally from t'north ('the north' in Northernish), is an award winning CIMA accountant, and is well equipped to look after all our money (clothed in a bazillion layers and drinking Yorkshire tea). Presumably this is related to her northern upbringing. Sophie recently relocated to the comparatively tropical Surrey hills where she can commute t'werk (to work) on a John Deere tractor. She is the Gromit to Ian McCulloch's Wallace i.e. the brains of the operation.
Adam Dobson
Global Sales Director
Our new Global Sales Director Adam was brought up in a pub so the business has always been close to his heart. Having started his booze career in his early 20s, Adam brings a wealth of industry experience at a senior strategic level having helped put brands such as Johnnie Walker, Bathtub Gin and Ciroc firmly on the map. When not extolling the virtues of Silent Pool Gin to our rapidly growing legion of supporters, Adam can either be found in the kitchen conjuring up some culinary delights or down the pub enjoying the rugby and a pint of Guinness. Adam's great-grandfather provided hospitality at his home for King Edward VIII during the early days of his abdication. Seems hospitality has been in the Dobson blood for generations. Cheers!
Joe van den Berg
Productions Operations Manager
The mastermind behind production operations, Joe keeps the cogs turning in the distillery. Organising the weeks around collections and deliveries, keeping staff on top of the plan and ensuring our bottles are filled with delicious gin is no easy task, but Joe takes it all in his stride. He holds the internal trophy for most knowledge on how our bottle-filling machine works. That might not sound very exciting, but without that knowledge you'd find your supply of gin to your local shop would dry up quite quickly. You might not believe us, but Joe used to work at a salon washing hair and has a degree in music. Now that's a career change.
Chloe Sheppard
Quality Control Supervisor
Chloe takes packaging very seriously: indeed before becoming our packaging supervisor she was, she tells us, number one wrapper at a burrito restaurant. Now she spends her days overseeing the bottling, labelling and packing of our gins whilst also winning at being the the most stylish woolly hat wearer in the distillery. Chloe has a strong interest in food, citing the arrival of The Sandwich Lady before 12.30 as the highlight of her day (she's not the only one, as anyone who has witnessed the lunchtime staff stampede will testify). Not one to be pigeon holed, outside work she likes collecting vintage fire fighting equipment.
Mario Mascelloni
Production Assistant
The joker of the distillery, Mario is guaranteed to put a smile on your face any day of the week, whatever the weather. He describes life at the distillery as a happy environment with a great bunch of people, but he does miss the beautiful blue sea in his hometown of Tuscany, Italy. We thought the Silent Pool would fix that craving but apparently not. Mario has previously been a soldier, security officer and has a black belt in karate. Burglars beware.
Adam Smart
Production Assistant
Adam started working life as an architectural assistant in Sevenoaks but decided to venture into the world of gin where he became a distiller in Dorking. After his stint there, Adam moved a stone's throw away to join us here at the Silent Pool Distillery, where his day-to-day involves filling gin bottles and assisting with production operations. Adam is always sporting a backwards cap or beanie to preserve his luscious locks for special occasions. We've only ever seen him without a hat on twice. In his spare time Adam enjoys travelling, with America being his favourite destination.
Melissa Thorn
Marketing Campaign Manager
Melissa is relishing the world of gin having previously worked in the slightly less glamorous world of plumbing supplies. Having turned her back on ballcocks and cisterns, she describes life at the distillery as busy, exciting, varied and creative but still has enough time - just - to indulge her habit of buying too many handbags. She dreams of drinking G&Ts under a palm tree in the Caribbean, which is where she would like to live one day. Is she hinting about becoming an international brand ambassador? We suspect so. Nice try, Melissa.
Callum Field
Commercial Development Executive
First arriving in 2016 with CV in hand searching for a holiday job, Callum's first job at the distillery was chopping strawberries. He must have enjoyed it, because he returned in 2017 to complete a summer internship and finally became a permanent team member in 2020 after finishing university, taking on the role of Commercial Development Executive. They say third time's the charm, right? Not only does Callum have an International Business Management Degree, he also boasts a French BBA, which he makes avid use of when working with French market. Merci Beaucoup! Callum says his hobby is going to the pub, but we're not sure if that counts.
Tim Bigmore
Trade Sales Manager
Tim takes the crown as resident Instagram King. A master of the selfie, Tim snaps a shot everywhere he goes, which as Trade Sales Manager, is a lot of places. When he's out and about, Tim looks after our customers on and off trade while also actively searching for new ones. When he's here at the distillery, everyone is secretly desperate to make it onto his Instagram feed, just once. Want to know what all the fuss is about? Take a look for yourself @thesilentpoolguy you won't be disappointed.
Gavin Ku
APAC Sales Manager
Gavin joined the team to oversee our journey into the Asia Pacific Market. With over 20 years in sales and marketing management, he's well equipped to build the Silent Pool Gin name in these emerging gin markets. Gavin grew up in Hong Kong, where he gained a bachelor's in commerce and a Major in Marketing. When he's not working away here at the distillery, you'll most likely find Gavin whipping up some delicious dishes in his kitchen.
Nick Burrows
Finance Controller
Nick. Fondly known as 'The Finance Father', he resides over his realm of finance with a watchful eye. He grew up in Torquay, Devon, later attending Bristol University where he gained a degree in Mathematics and Statistics. Nick aces his role in maintaining accurate financial records and systems of control but if that's not enough to convince you he's a sharp cookie, he won the 1982 Ilsham Primary School Rubik's Cube competition, beating out some tough competitors by all accounts.
Hannah Dale
Assistant Accountant
Hannah isn't what you'd imagine as your typical accountant. Having grown up just around the corner (literally) in Shere, Hannah has always been surrounded by woodlands, where she took up off-road motorbike side-car trials as a hobby. She's pretty good at it too, having won the British Side-Car Championship once and the Southeast Championship 3 times. Not too shabby! Despite the action-packed racing life, Hannah does have some fears - but it might not be what you think. She's petrified of Mr Blobby. Huh.
Mariola Parsons
Logistics Coordinator
Mariola is our Logistics Coordinator hailing from Warsaw, Poland, where she attended the Warsaw School of Economics. In a previous life Mariola was a Sales and Distribution Analyst at Virgin Atlantic Airways for 14 years. You'll find Mariola organising inbound and outbound logistics for raw materials and finished products. Her favourite part of the job however, is having an endless supply of her favourite gin. We couldn't agree more! She's also a rather accomplished cyclist, having cycled from London to Paris twice, from San Francisco to Los Angeles and across Taiwan - just to name a few!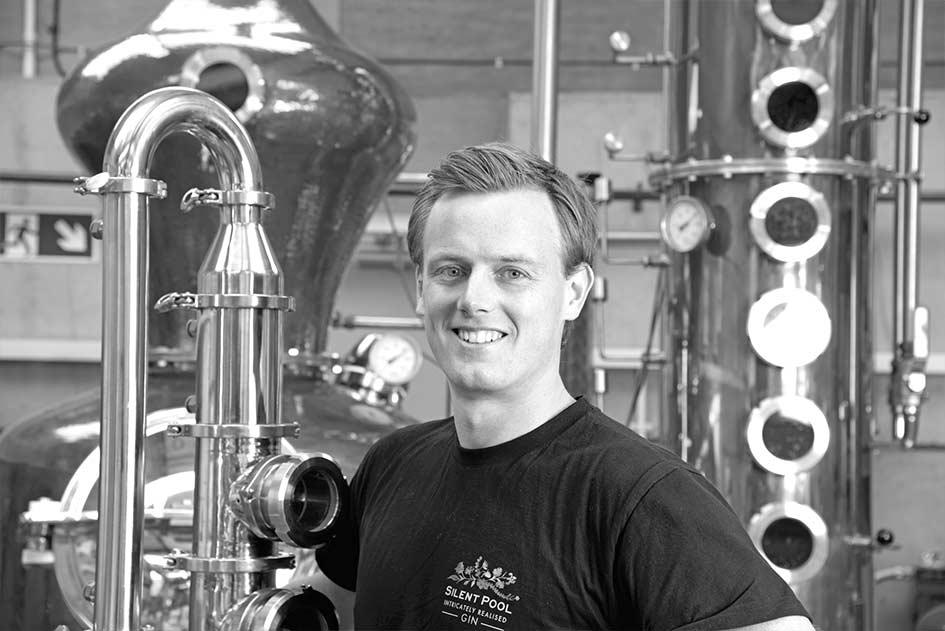 Todd Zillwood-Hunt
Distiller
In-house distillery DJ Todd is not only crucial for motivating our bottling team (his thesaurus- like musical knowledge is unparalleled) but he's also king of the 'on the spot' tour. With his flowing locks, easy smile and collection of beer-related t-shirts, you'd never believe our resident surfing enthusiast arrived with us somewhat preppy looking! We look forward to seeing the dreadlocks that we imagine will come with his full transformation into a Silent Pool distiller.
Marzio Di Rocco
Distiller
A man of many talents, Marzio began his career as a bartender before going on to become a qualified Brewer, Sommelier and most recently a Distiller. When he's not occupying himself with becoming a master of the alcohol industry, you'll find Marzio cheering on a rugby match, watching some snowboarding or with his nose in a Manga comic. The most interesting of his talents? Marzio has synaesthesia – meaning some smells make him see colours. We wonder if the smell of Silent Pool Gin makes him see teal?
Harry Keene
Assistant Distiller
Keen to put his Masters Degree in Chemistry to good use, Harry joined the team as a Trainee Distiller with a burning desire to become an expert in spirits distillation. Before joining us, he worked as an NPD scientist, so we think he's got the minerals to achieve just that. Harry describes his role as being part chef, part scientist with a lot more fruit peeling involved than you might think. Well, that's what makes the gin so delicious, Harry. His favourite part of the job is developing (and tasting) new recipes. He also claims he's ridden an ostrich. Now you know how the distillers get around.
Kaitlin Wilkes
Global Advocacy Manager
Originally from Toronto, Canada, Kaitlin initially made her journey across the pond because of her love of the Royal family. Realising quite swiftly she couldn't meet the Queen as easily as she had hoped, she got stuck into the world of spirits. Consulting on various brand projects in the UK, Canada and managing a bar in Sweden, she's got all the skills necessary to provide a meaningful and engaging advocacy programme on a global scale. She also once served Pierce Brosnan a martini, although sadly it was stirred and not shaken.
Marion Zoelle
UK Brand Ambassador
Mari is our UK brand Ambassador which means she visits bars and pubs across the UK laden with Silent Pool Gin. She's rather adept at making cocktails – very special cocktails at that – something she learnt from her time in The Coral Room in the Bloomsbury Hotel and Amar Bar in Kensington. As you can imagine, she has plenty of colleagues offering their taste buds to sample her latest creations. Mari grew up in France, spent 7 years in Germany and now resides in the UK. What does she like to do in her spare time? Whizzing around Europe on her Ducati, of course.
Christian Streatfield
Hospitality Manager
Christian works with Jane on our very busy schedule of off-site events including local markets and At Your Event private parties. He also runs distillery tours, charming everyone he meets with his dazzling knowledge of all things gin. Being something of a gin connoisseur, he's usually first in line when the distillers have a new spirit to taste. As a student Christian worked for the British Cycling Team, hanging out with world class riders at the velodrome. Now he gets to hang out with world class gin instead.
Jane Clement
Events Manager
Jane is our ex trolley dolly, on-the-spot deliverer of babies, dating advice guru and ringmaster of Markets and Events. As well as being a very welcome addition to the girls camp at Silent Pool Distillers, she makes running twenty-four events in a weekend look like a cake walk. Be sure to check out our Markets and Events Diary so you can see her team in action, and (most importantly) sample our products!
Lian Stacey
Office Manager
Queen of lists and getting stuff done, loved and relied on by everyone who works here: Lian doesn't just manage the office but also looks after orders, customer services and tour bookings. Whilst not intentionally pursuing the title of 'office mum' she has become highly skilled at washing up other people's cups and lunch plates and remembering birthdays (there's always cake). But don't be fooled by her friendly demenaour: Lian doesn't suffer fools nor take prisoners - although she did in her previous job as a Police Force Detention Officer.
Donna Drake
Shop Supervisor
Donna has been with us for over 2 and half years as our shop supervisor, where she manages a small team and ensures the site runs smoothly on weekends. Guildford born and bred, she's stayed local her whole life, working in Shere at Kinghams Restaurant for 16 years. Donna travelled around Turkey in her late teens and is also a qualified beautician – which comes in very handy before a staff night out. When she's not glamming everyone up, she enjoys long dog walks that end at the pub for a refreshing G&T.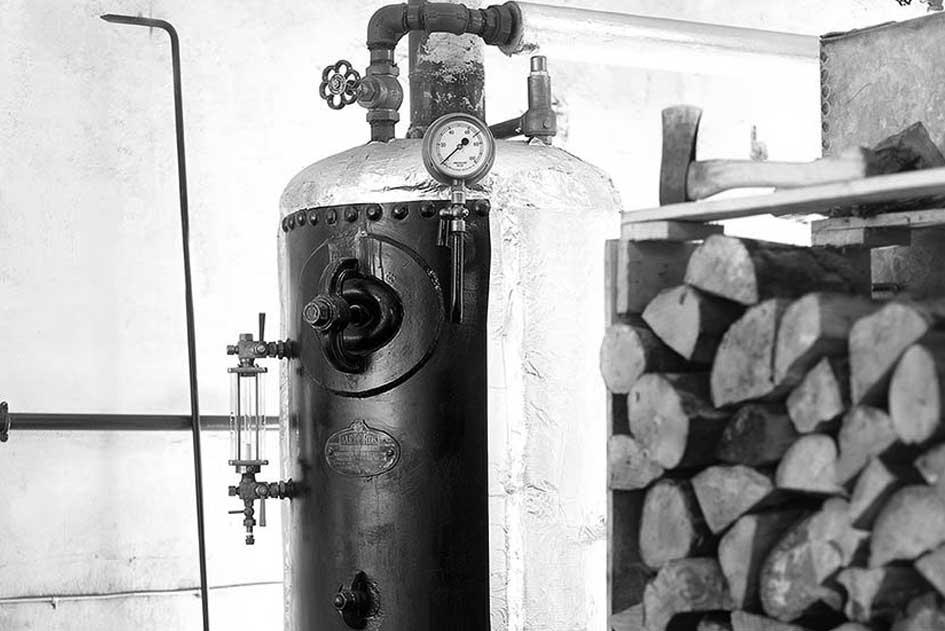 The Major
Wood Fired Boiler
We like to say that sunshine is one of the ingredients of our gin because the sunlight that falls on the Duke of Northumberland's estate, where we're based, grows the trees which we feed The Major. The Major powers the steam jacket of the still, which would make it possible for us to make gin in the event of a National Grid outage or apocalypse (ever the optimists here at SPD).